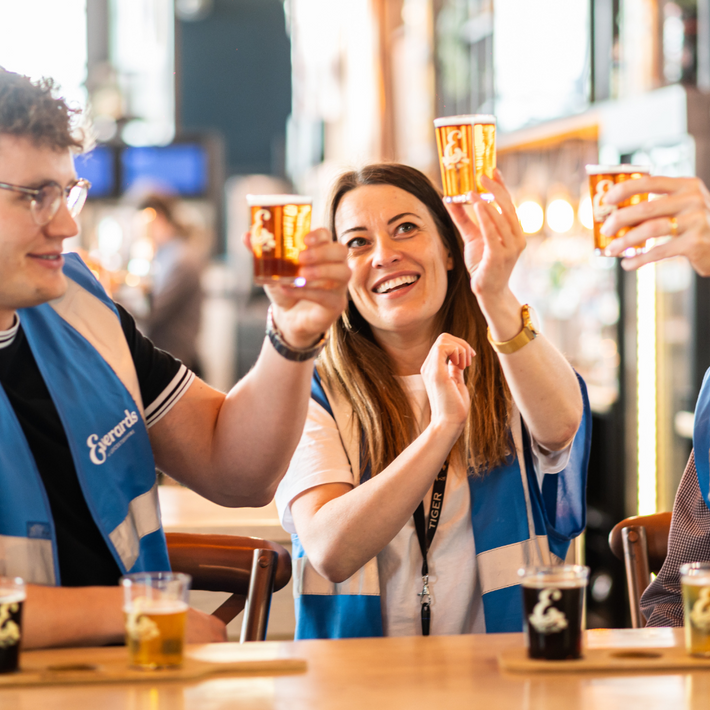 General questions
Do we have to book before visiting?
Yes. We have a limited number of tickets available on each tour slot. All guests must book a ticket on our website for their visit. You can book tickets here.
How far in advance can I book on to a tour?
You can book a tour 90 days in advance.
Where do we go when we arrive?
Please enter the Everards Shop entrance and let a member of the shop team know you are here for a brewery tour. You will be directed to your tour guide and seated with the rest of your group to wait for your tour to commence.
We are a group of 10+ how do we book?
For group bookings of more than 10 people, please email us to arrange experience@everards.co.uk
How long will our tour last?
Tours last approximately 90 minutes however, in total, most of our visitors spend around 3 hours onsite.
You can book a table in our Beer Hall before or after your tour here where you can enjoy locally sourced food and enjoy more of our beers. Our brewery sits within 70 acres of beautiful green space, free for you to explore, with quality cycling and pedestrian walkways that connect to Route 6 on the National Cycle Network. The meadows are also a haven for wildlife, with a wide variety of birds calling it home, you can find out more here.
Do I have to use contactless payment?
We are a cashless site. This means you will need to pay with contactless cards or via mobile for all purchases carried out in our beer hall and shop.
Can I use an Everards Gift Card to pay for a brewery tour?
Yes. You can use your Everards gift card to pay for a tour online or in store. Simply enter the gift card code at checkout as normal. Please note that one gift card can be used per booking.
What if I'm late?
Tours will leave promptly on the time stated on your ticket. We ask that you arrive at least 15 minutes before your departure time. If you are running late please email experience@everards.co.uk Whilst we cannot wait for you or a member of your party, we will do our best to re-schedule your tour either for later that day or at a date convenient to you.
Is it a guided tour?
Yes, our brewery tour guide will take you through the brew house, ending in the beer hall for your beer tasting session. Your guide will be happy to take questions and share the Everards story in an entertaining and captivating manner.
Do you have storage facilities for baggage?
As this is a working brewery, any large bags will not be permitted on the tour. We encourage you to bring a small bag or coat which can be worn. We do have a limited storage facility for guests with a capacity for around four rucksacks. Please note, we cannot accommodate larger bags such as suitcases.
Can I book on a tour over the phone?
No. All bookings must be made online or in store (our team can help you check availability and book on to a tour using our tablet in store). 
Can I book a tour when visiting your shop?
Yes. our team will be happy to help check availability and book on to a tour using our tablet in store.
Are there any discounted rates?
No, our brewery tours are fantastic value and include 3 x 1/3 pints of Everards beers included within the price.
Do you do anything for birthdays?
If it is a special occasion booking, please let us know before your visit (experience@everards.co.uk) and your tour guide will make sure to say happy birthday and raise a glass in the tasting session.
Are you allowed to bring cameras in?
Yes – cameras and mobiles can be used on site, however, please be mindful of other guests.  We'd love to see your pics, tag us in if posting online #Everards
Can you recommend any hotels?
There are a few hotels close by including The Marriot Leicester , The Hilton Leicester, and if you are looking to stay nearer the city centre you could try The Holiday Inn Leicester . You could also visit the Visit Blaby website for hotel and local area information.
Can we go through the brewery tour at our own pace?
No, the Everards brewery tour is fully guided, and your tour guide will take you through each section of the tour which will take approximately 90 minutes.
Will I see beer being made?
We will see brews in action on Thursdays. Please note that we do not brew our beers on Fridays and weekends as our wonderful brewers need some rest. 
What catering facilities do you have?
Our Beer Hall serves brunch, lunch and dinners alongside Everards beers, local gins and lots more! View the full menu and book your table here.
Can we bring our own food and drink?
You cannot consume your own food and drink within the Beer Hall, shop or brewery.  However, you are welcome to bring a picnic to enjoy outside in our beautiful greenspace at Everards Meadows. There a few picnic benches, however these are on a first come first served basis and cannot be reserved. 
What are the other attractions in the area?
There's a wide choice of fun and interesting attractions in Leicestershire including The Richard III Visitor Centre, The National Space Centre, Kirby Muxloe Castle, Great Central Railway, Bosworth Battlefield, Leicester Cathedral and much more. Plus we are a short 5 minute walk to Fosse Shopping park home to Next, Pandora, Flannels, Primark, M&S, River Island and many more. Take a look at Visit Leicester and Visit Blaby for more local information. 
Directions and Parking
Where are you?
Find directions to Everards Meadows here.
How far are you from the city centre?
We are 4 miles from Leicester city centre which is approximately a 20-minute drive, 24-minute cycle or a relaxed 1hr 20 minute walk along canal paths and off road into the city. Visit Visit Leicester to find hotels, and attractions in the city.
Is there car parking and is it free?
Parking at Everards Meadows is free for the first 3 hours and no ticket is required. However, please enter your car registration into the tablet in the Beer Hall on arrival and you will get 5 hours free. Please ask your tour guide to direct you.
Your number plate is captured on your arrival into the site from either main road and your parking time starts at this point. Full car parking terms can be found here.
What are the nearest train stations?
The nearest stations are Leicester Station or Narborough Station. 
Facilities and Access for All
If you are a wheelchair user, we kindly ask that you contact us before you book at experience@everards.co.uk so we can adapt to your needs. For your space and comfort, we are able to accommodate one wheelchair user per tour.
We have a lift to gain access to the brew house as well as wheelchair friendly toilet facilities.
Are there facilities for babies and pushchairs?
The brewery tour is for 18-year-olds and over only. No babies are permitted to go on our brewery tours. Children and babies are welcome in the Beer Hall where you will find baby changing facilities and pushchair access throughout.
Can I bring my pet?
Pets are not permitted on brewery tours. However, well behaved dogs are welcome in our Beer Hall and with Everards Meadows on the doorstep it's a great place to bring your four-legged friends for a visit. 
Groups
What constitutes a group?
A group on an Everards Brewery Tour is 11 or more or more people. If looking to book for a group, please contact experience@everards.co.uk
Is there coach parking?
No, we do not have facilities for coach parking on site.
Is there a place we can all wait for each other to meet up?
Everards Beer Hall has a main entrance where you can meet up. Or you might want to meet up outside the shop, next to our Barrel Van as its a great visual point to meet and take some pics of your group before you start your tour.
Brewery Tour - over 18s
Buying as a gift and unsure what date would suit?
Come and explore the world of Everards beer at our state-of-the-art brewery.
Read more
Buying as a gift?
Why not purchase a Brewery Tour Gift Card so they can choose their own date and time? Shop gift cards

Join us on a tour
Step inside our 'home of great beer', a sustainable brewery set within Everards Meadows which boasts 90 acres of beautiful landscape. You'll find out how we brew our amazing beers, from our much-loved Tiger, right through to our limited edition and small batch beers.
Your guided tour will last approximately 90 minutes and will look behind the scenes of our working brewery. You'll learn about our family history, enjoy the taste and smell of the premium ingredients that we use, discover how we brew our beers and finish with sampling of some of our favourite beers from the bar!
What's included:
Guided brewery tour
Beer tasting (3 x 1/3 pints of Everards beers, handpicked by your guide)
15% discount in-store on day of your visit (cannot be used in conjunction with any other offer e.g. pick and mix or sale items). 
5 hours free parking (please register your car with your tour guide)
When do the tours run?
Thursday at 10.30am
Fridays* at 10.30am and 1.00pm
Saturdays* at 10.30am, 1.00pm and 3.30pm
Sundays* at 10.30am
*Please note that our wonderful brewing team finish at 12pm on Fridays and are not on-site during weekends. The best time to see all the brewing action is on a Thursday. 
Things to bear in mind:
This is a working brewery
Over 18's only
Please wear appropriate footwear (no open toes or heels)
No food or drink to be taken into the brewery
The tour commences on time, please arrive 10 minutes earlier than your booked start time
If you have any special dietary requirements, please email experience@everards.co.uk so we can select the correct beers for your tasting session
This is a working brewery and we have one lift available.  If you have any accessibility needs then please email experience@everards.co.uk we can discuss the tour route with you
Full T&C's can be found here.
FREE
DELIVERY
When you spend £60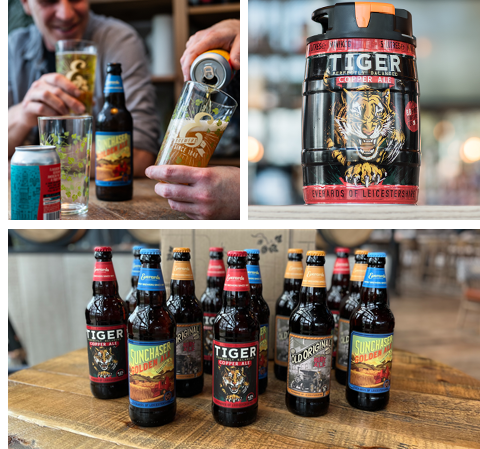 ---
More from this collection